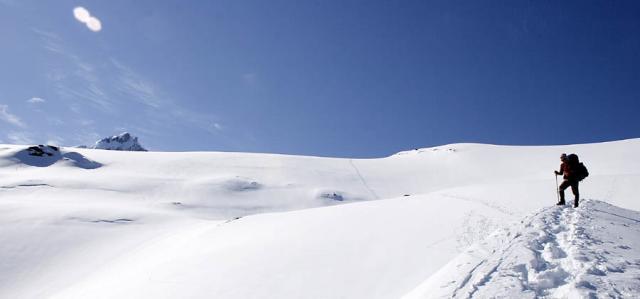 We (that would be Jake, Kyrin and myself) left Seattle after work on a Friday, ate some fast food and then rocketed up the Baker highway and finally the dirt road towards the base of the Coleman-Deming route. The road was closed about a mile and a half from the trail head, so we parked and went to bed after swapping stories with various Canadian ski mountaineers.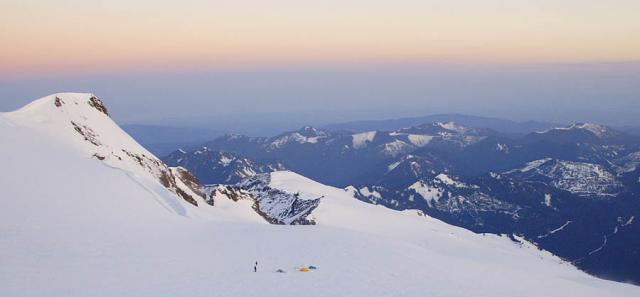 We woke at 5:30 and hiked to base camp above the Hog's Back, arriving around 11:30 am. This left us the remainder of the day to sit in the radiation bowl formed by Mt. Baker, and Lincoln and Colfax peaks. This resulted in a) boredom and b) severe sun burns for all. When the boredom got the best of us, we went to bed at 5:00 in the afternoon. Wind and loud people kept us awake until 8 or 9. 2:00 am came mighty quick, and we roped up (as this was the prudent thing to do) and started climbing up the Coleman glacier. After we'd ascended 1500 feet, we discovered that a pair of glacier glasses was still sitting back at camp. We pushed onward and upward, after deciding that a descent back to camp would kill the entire day. We had a truly half-assed plan of using prescription glasses and climbing tape to fashion glacier-worthy sun protection. This proved unnecessary as we were able to borrow ski goggles from one of the prudent mountaineers.
After getting stuck behind said mountaineers for the climb up to the Coleman/Deming divide, we were able to get around them and continue the push for the summit. We attained the summit at about 9:30, ate a quick bite, and then bombed back down to base camp, and then, eventually, the car.